In  the realm of gaming, Microsoft has been a dominant force with its Xbox consoles and associated services. Over the years, Xbox Live Gold has provided gamers with multiplayer capabilities, free monthly games, and exclusive discounts. However, Microsoft is now poised to revolutionize its subscription offerings with the introduction of Xbox Game Pass Core, a new service that will replace Xbox Live Gold starting in September.   new Game Pass Core offering will include the usual Xbox online console multiplayer support, deals and discounts, and a new small catalog of more than 25 games — including Gears 5, Forza Horizon 4, and Psychonauts 2.This move is set to bring exciting changes and expanded value to Xbox gamers around the world.
Xbox Live Gold membership ! Starting September 14th, you will be automatically switched over to Xbox Game Pass Core. And the best part? The price remains the same at just $9.99 per month or $59.99 per year.
However, with this change, Microsoft is bidding farewell to Games with Gold on September 1st. This means that the era of free monthly games for Xbox owners is coming to an end after a decade. But don't worry, any redeemed Xbox 360 titles will still be yours to keep. As for Xbox One titles, you'll need to maintain an active subscription to either Xbox Game Pass Core or Game Pass Ultimate.
But here's the exciting part. Microsoft is introducing over 25 incredible games to Game Pass Core to make up for the loss of Games with Gold. And they're not stopping there. You can expect new titles to be added two to three times a year, keeping your gaming experience fresh and exciting.
"We saw this as an opportunity to revolutionize the subscription experience," says Jerret West, CVP of gaming marketing at Xbox. "By selecting the best titles from our Xbox Game Pass catalog, we've created a truly compelling collection for our subscribers."
This catalog of games will be a lot more limited than the full Xbox Game Pass subscription ($10.99 a month), and Microsoft is only confirming 19 of the launch list titles today:
Among Us
Descenders
Dishonored 2
Doom Eternal
Fable Anniversary
Fallout 4
Fallout 76
Forza Horizon 4
Gears 5
Grounded
Halo 5: Guardians
Halo Wars 2
Hellblade: Senua's Sacrifice
Human: Fall Flat
Inside
Ori and the Will of the Wisps
Psychonauts 2
State of Decay 2
The Elder Scrolls Online: Tamriel Unlimited
Due to the latest addition to the Game Pass family which offers multiplayer features, it's important to note that the regular Xbox Game Pass does not include this. If you want to enjoy the full benefits of Game Pass and online multiplayer, you'll need Xbox Game Pass Ultimate. Despite its rebranding efforts, Microsoft has yet to address the confusion surrounding the need for Xbox Live Gold alongside a regular Game Pass subscription.The transition from Xbox Live Gold to Xbox network has been on the horizon for some time now, so it's not surprising to see existing subscribers being moved over to an Xbox Game Pass-branded subscription. Microsoft's decision to retain the Xbox Live Gold name for its basic subscription was met with mixed reactions.
In a recent attempt to increase the cost of a yearly Xbox Live Gold subscription, Microsoft faced backlash from its dedicated fanbase. However, they quickly rectified the issue by removing the paywall for free-to-play multiplayer games. Additionally, Xbox party chat, Looking for Group (LFG), and free-to-play games are now accessible to all users, regardless of their Xbox Live Gold subscription status. Microsoft is committed to improving the gaming experience and providing greater accessibility to its players. With Xbox Game Pass Core and ongoing updates, they aim to redefine your gaming journey.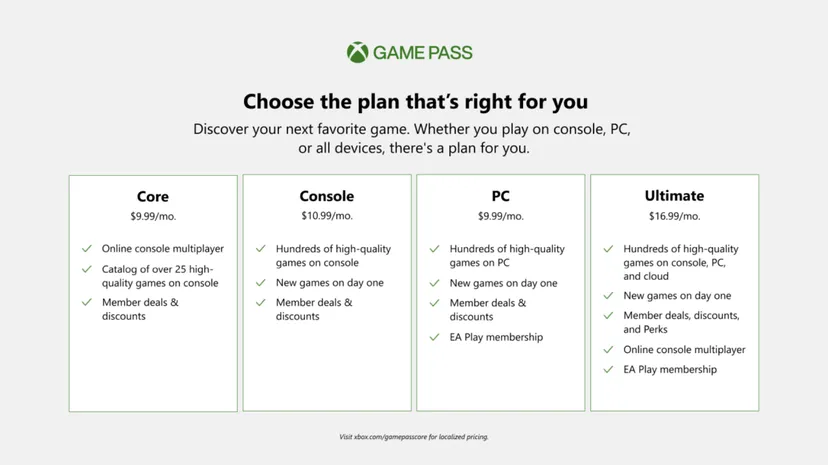 Just recently, the prices for Xbox Game Pass were increased, with Xbox Game Pass Ultimate now costing $16.99 (€14.99 / £12.99) per month and Xbox Game Pass for Console priced at $10.99 (€10.99 / £8.99) per month. However, the prices for PC Game Pass remain the same. In addition to the price changes, Microsoft has also announced that they will be ending their Xbox Game Pass Friends & Family plan in August. Initially launched as a "preview program," this plan was available in eight countries. Unfortunately, there is no indication if the plan will make a comeback in the future.