As a music lover and a collector of keyboards, I recently had the opportunity to purchase and try out the PopuPiano: The Smart Portable Piano. This sleek and portable keyboard, available in beautiful glowing black and sparkling white colors, offers a unique experience with its 29 LED keys and chord pad. Weighing at 3.85 lbs (1.75 kg) with dimensions of 18.3 x 4.8 x 1.3 inches, it is compact enough to carry with you anywhere. It is innovative smart piano that combines chord pad and keyboard technology to revolutionize music learning and composition for all ages and skill levels. Its lightweight and portable design sets it apart from traditional pianos, making it easy to carry anywhere. With a sleek and cool appearance and two body color options, PopuPiano features LED lights that illuminate keys as guides for learners. Plus, magnetic connectors allow for the connection of other chord pads and left-handed keyboards, making piano duets a possibility. It comes with PoPuMusic APP which is available on android and ios app store and offers a variety of tutorials and games to help learners quickly start playing. App has hundreds of instruments with pre-recorded chords, notes, and scales, and comes with 60 trending pop songs with constantly-updated music library. For advanced learners, PopuPiano is even compatible with professional software like GarageBand and Logic. Discover the ultimate combination of technology and creativity with PopuPiano – the world's first smart piano.
What's in the Box of PopuPiano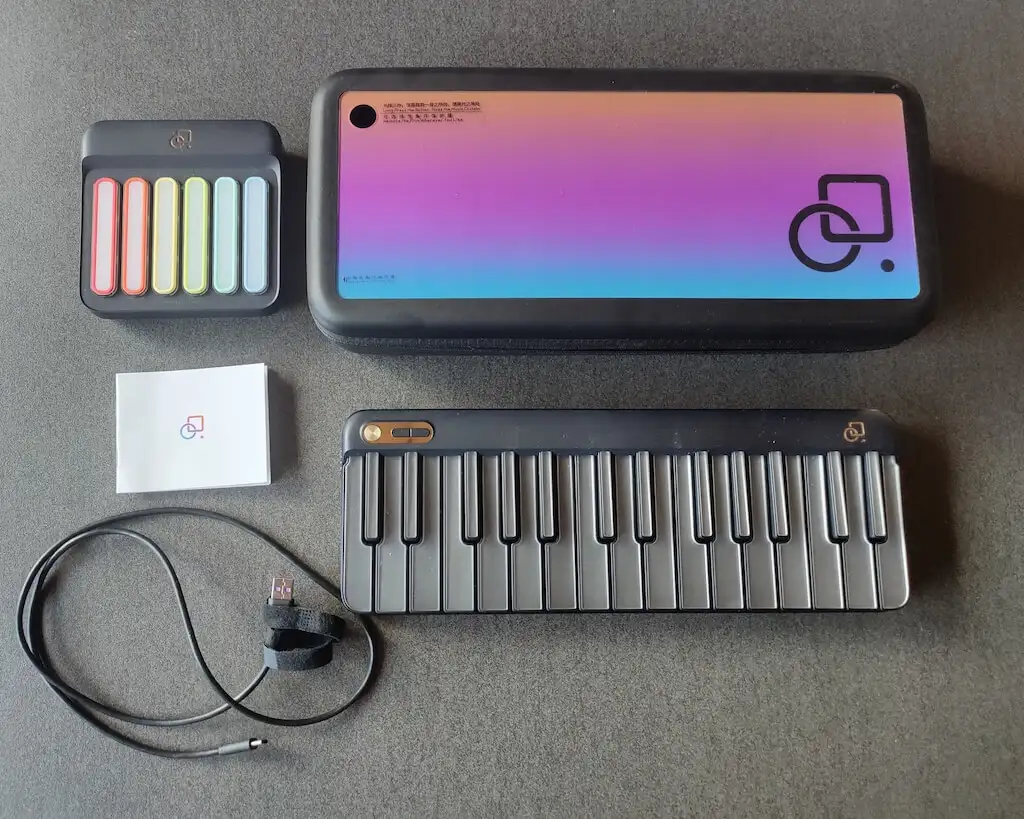 ◉I received the black PopuPiano bundle for review purposes and decided to show you what's included in the package! Unboxing my PopuPiano revealed a full set of tools geared towards unlocking your musicianship.
◉At the heart of it all lies the exciting LED keyboard, enabling dynamic music production at your fingertips.
◉Connected to which is a hologram chord pad that taps into each key efficiently with colorful lights illuminating vibrant possibilities in sound.
◉Refreshing this power are 2 convenient components – a USB – C charging cable and a simple but comprehensive printed user manual for guidance.
◉Of course, the best part about all this is the comes equipped PopuBag fully loaded with the keyboard glamping information/storage as I please around town (or even hemisphere). There you have it; gear up those digits and let your sonic creativity shine bright!
PopuBag is the perfect carrying case for your PopuPiano and chord pad. It offers durablity and a glossy plastic finish that will protect your device on all your travels. Its sleek design has a built in rubbery handle making it a to transport. You won't need to worry about exposing it to moist conditions, even though it looks waterproof, because there is also an ingeniusly placed hole on the top of the bag specifically designed for powering up your device while you're mobile.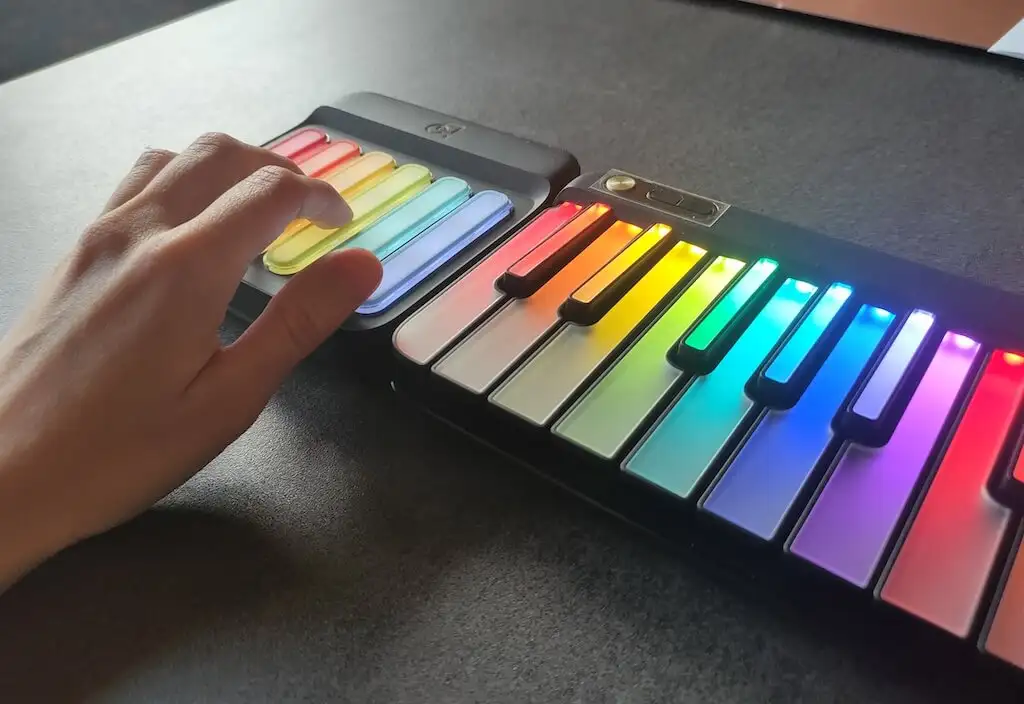 The keyboard itself is quite petite and lightweight. Surprisingly, the keys are of a decent size as opposed to my initial expectations that they would be too small. My typing experience was smooth and effortless, though individuals with larger hands may want them to be wider. It comes equipped with 29 acrylic keys illuminated underneath by LED lights; users can make use of the interactive finger guide displayed through the LED light keys to explore the entire array of options available both on and off the keyboard. To me, it looks particularly gorgeous when deactivated, but learning how to play powerfully relies on deciphering the visual guide provided through these LED lights.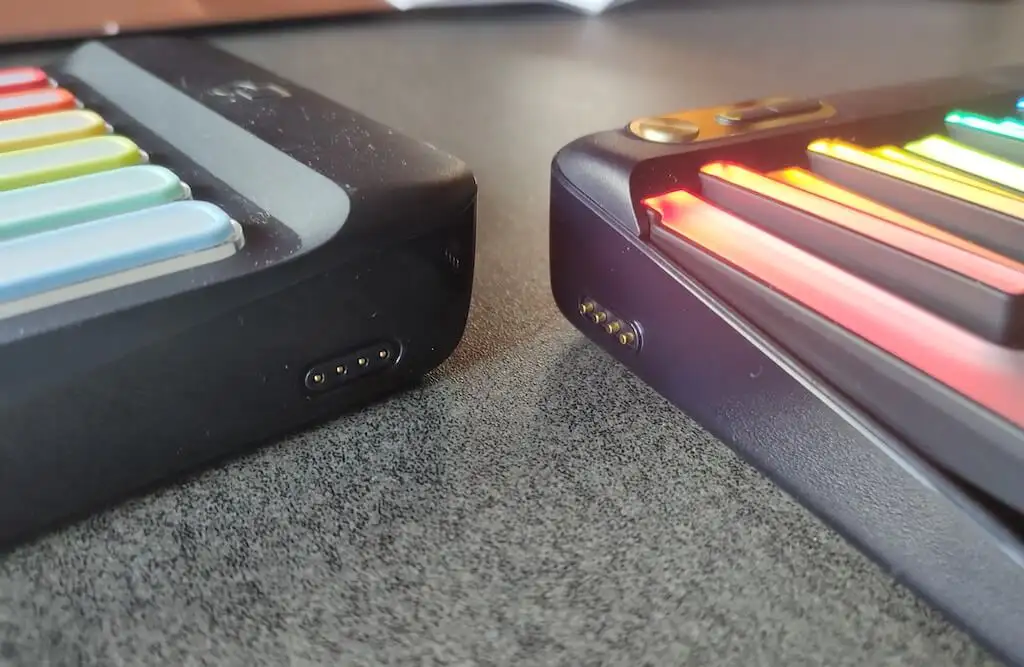 The PopuPiano Chord Pad offers flexibility and convenience with a total of 18 buttons grouped into six colorful keys. This pad effortlessly connects to the main keyboard using durable magnets you'll find on each side, ensuring nothing gets in the way of your unbridled creativity. While the regular PopuPiano is useable without its capable partner, for optimal performance it's absolutely necessary to connect the chord pad to your main keyboard; otherwise, it won't be able to deliver as fully functional an experience as it's known for. Something else worth noting is that at one point in time a left-handed PopuPiano was available, sold initially via PopuMusic's successful Indiegogo campaign page. Such an environment was perfect for duets between a collaborative pair of friends as each console would roomily take up its own space away from the accompanying chord pad each sporting production keypads linked directly from the main keyboard.
Key Features of PopuPiano
The PopuPiano has an audio player codec of MIDI, and boasts connectivity features such as Bluetooth 5.0 BLE, which allows support for Bluetooth MIDI, and USB Type-C. Its battery life is impressive as well, with a 2200mAh lithium battery that charges within 1.5 hours.
One of the standout features of this keyboard is its compatibility with professional arrangement software like Logic, Cubase, and Garageband, providing an excellent opportunity to integrate it into your music production setup. The starting prices of $348 on Amazon (with a carrying bag) and $299 on the PopuMusic website (no bag) are reasonable for the features it offers.
| | |
| --- | --- |
| Product Name | PopuPiano |
| Product Specifications | Chord Pad + 29-key Tonic Keyboard |
| Product Size | 18.3*4.8*1.3 inch (463.8*122.6*33 mm |
| Battery Capacity | 2200mAh lithium battery |
| Charging Time About | 1.5 hours |
| Wireless Transmission | Bluetooth 5.0 BLE (support Bluetooth MIDI) |
| Charging Interface | USB Type-C |
| Power Input | 5V 2A |
| Supporting Device | Bluetooth 4.0 BLE version or above, some models do not support Bluetooth MIDI and need to be plugged in Apple system: iOSI1 and above, iPhones, iPadAir2 and above Android system: Android 8.0 or above |
| Remark | This product is a standard MIDI keyboard and supports professional arrangement software Logic, Cubase and other software |
| App Features | |
| Name | PopuMusic |
| Compatibility | Apple system: iOSI1 and above, iPhones, iPadAir2 and above & Android system: Android 8.0 or above |
| Connection | Bluetooth 4.0 BLE version or above, some models do not support Bluetooth MIDI and need to be plugged in |
| Supported Languages | 5 (English, Simplified Chinese, Traditional Chinese, Korean, Japanese) |
Drawbacks and Limitations of PopuPiano
While the PopuPiano offers many benefits, it does come with its limitations. One of the cons is that it doesn't really teach you how to play the piano. Although it simplifies learning by showing which keys to hit, it doesn't provide a comprehensive piano-learning experience. For beginners, this can be frustrating as they might not be able to simply look up a song and play it.
Another drawback is the product's price point. Some might say that it appears slightly expensive when considering that there are numerous MIDI keyboards on the market. However, this price does not seem too steep when you consider the added features and the portable nature of the keyboard.
What Makes PopuPiano Special.
Looking for a smart way to learn and make music? Look no further than PopuPiano – the compact lighting keyboard that offers real-time feedback and a magnetic multifunctional pad controller. With sweet video tutorials, you can go from beginner to great producer in no time. Plus, it's compatible with popular music software, making it a great MIDI keyboard for pros.
With PopuPiano, you'll never miss a note. The keys light up according to instructions, helping you improve your accuracy and learn more efficiently. Plus, the practices are designed with gradual difficulties, focusing on popular hit songs.
Want to learn hundreds of songs in just minutes? PopuPiano simplifies chord mastery by condensing the most used chords into a compact chord pad. Combined with a karaoke lyrics display, you can play and sing along to tons of hit songs with just a tap of your finger.
Ready to unleash your creativity and make your very first song? Connect PopuPiano to the PopuMusic app via Bluetooth. The specially designed FreePlay section lets you create songs like playing with Lego – choose a rhythm layer, add a chord layer, and then a melody layer. Combine all layers, make edits! Your first song is published.
And don't worry about music theory – PopuPiano assists your composing by lighting up different keys according to the music type. Simply follow the lights and you can rock and roll in a variety of styles, from blues to Persian music.
With PopuPiano, you can double your creativity by connecting another specially designed keyboard on the left side. Start your journey to becoming a pro player and unleash your music potential.
*Conclusion and Overall Rating
In summary, the PopuPiano offers a unique and convenient experience for music enthusiasts, especially those looking for a portable option. While it might not be an ideal choice for those seeking to seriously learn piano, it can be an interesting addition to your collection and a fun way to experiment with sound.