Sonos has come a long way since releasing its first portable speaker, the Move, four years ago. Back then, it was a unique product with Bluetooth and Wi-Fi capabilities and a 10-hour battery life. Today, Sonos has incorporated these features into many of its speakers, including the affordable Roam and the Era 100 and 300 models. So, what does the recently-announced Move 2 bring to the table?
On the outside, the Move 2 looks almost identical to its predecessor. It's a heavy and chunky speaker, perfect for lugging around the house or using outdoors. Despite its size, it can still deliver high-quality sound. Like other Sonos speakers, the Move 2 can stream audio over Wi-Fi or connect via Bluetooth. It also has built-in microphones for voice commands and optimized sound quality, as well as an IP56 rating for dust and water resistance. It's even durable enough to withstand extreme temperatures.
There are some notable changes to the Move 2's design. The top touch controls have been redesigned for easier use, and there's a physical switch to mute the microphones for added privacy. Additionally, a USB-C port allows for charging or line-in connectivity. This is a significant improvement as previously only the expensive Sonos Five speaker had this feature.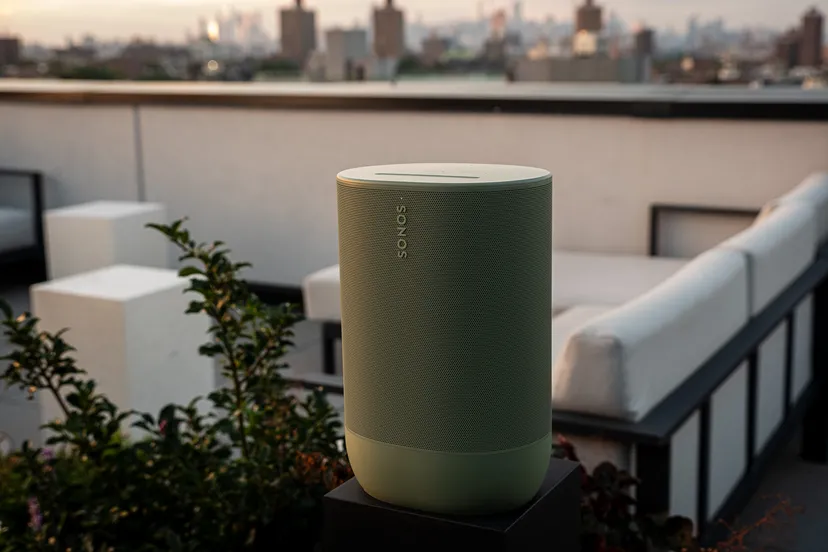 The Move 2 may not offer groundbreaking new technology, but it brings Sonos' latest innovations and design cues to an existing product. Priced at $449, it's on par with other high-end Sonos speakers. So, if you're looking for a powerful and versatile speaker with excellent sound quality, the Move 2 could be a great addition to your Sonos lineup.
Sound Quality: One of the biggest updates to the Sonos Move 2 is its improved sound quality. The speaker delivers exceptional sound quality with deep bass, clear trebles, and a solid mid-range. The speaker has two Class-D digital amplifiers, a downward-firing tweeter, and a mid-woofer, which deliver a powerful and well-balanced experience. It also has automatic true play technology, which makes sure that the sound quality remains balanced, no matter where in the room it is. The audio performance is superior in comparison to the original Sonos Move.
Battery Life: The Sonos Move 2 has an extended battery life, which can last up to 11 hours on a single charge. This is significant improvement from the original's battery life of 10 hours. It comes with a charging base, and the lithium-ion battery is easy to replace after a few years of use.
Design: The Sonos Move 2 has rugged design, with an IP56 waterproof and dustproof rating, and it can withstand being dropped and bumped around. The speaker also has a convenient handle at the back, making it easy to carry around to various outdoor locations. The speaker's design remains largely unchanged from the original Move, but the new one has a sleeker look compared to its predecessor.
Features: The Sonos Move 2 comes with several features, including Wi-Fi, Bluetooth, and voice control. It's compatible with Alexa and Google Assistant, making it easy to operate through voice commands. It also has an auto-switching feature, which detects when you're playing music indoors or outdoors and adjusts the sound accordingly. You can also pair the speaker with another Sonos Move 2 or other compatible wireless speakers for a dynamic audio experience throughout your home.
Cost: The Sonos Move 2 is slightly more expensive than the original Move, which may be a significant factor for some people. However, with the improvements made in sound quality, extended battery life, and design, the additional cost may be worth it for audiophiles.
Now available in olive green, black, and white! This next-generation speaker from Sonos brings two major upgrades: a longer-lasting battery and all-new speaker components. With Sonos promising up to 24 hours of battery life, the Move 2 exceeds expectations and offers even more playtime. In fact, during testing, the Move 2 had an impressive 46 percent battery remaining after 22 hours and 50 minutes of continuous music streaming over Wi-Fi. And it gets even better – the Move 2 lasts more than twice as long as its predecessor, making it perfect for any occasion.
Charging the Move 2 is effortless thanks to its innovative "ring" design. Simply place the speaker on the charging ring and let it power up. Alternatively, you can charge it via USB-C for ultimate convenience. Whether at home or on the go, the Move 2 offers seamless charging options.
The Move 2's speaker components take inspiration from the highly acclaimed Era 100. Featuring two angled tweeters and a midwoofer, the Move 2 delivers an impressive stereo-like sound experience. Although there's no left-right balance control in the app, the Move 2 still provides remarkable clarity and balance across all ranges. From delicate albums to dance floor hits, this speaker faithfully reproduces every detail.
Not only does the Move 2 excel in sound quality, but it also packs a punch when it comes to volume. With the ability to fill a large outdoor space, the Move 2 is perfect for gatherings and parties. Plus, it's designed to thrive in outdoor environments, ensuring consistent audio quality wherever you go.
While the Move 2 offers incredible portability, it's important to note that sound quality does take a slight hit compared to larger alternatives. Priced at $449, you may want to consider other options such as the Era 300 if sound quality is your top priority. Alternatively, combining an Era 100 and a Roam speaker for $449 could provide greater versatility and value for indoor and portable use respectively. When choosing between the Move 2 and Roam, consider whether you prioritize portability or power.
Although the Move 2 may cater to a specific niche, it competes impressively with similar products in terms of price and features. Look no further than popular alternatives like the JBL Boombox 3, Ultimate Ears Hyperboom, and Bose Portable Smart Speaker. With its extended battery life, the Move 2 sets itself apart and outperforms its competitors.
Discover the Move 2 and revolutionize your audio experience. With its exceptional battery life, enhanced sound quality, and impressive potability, this speaker is a game-changer. Don't settle for less – choose the Move 2 for your ultimate audio companion.