Renowned robotics engineer Ken Pillonel, famous for his innovative USB-C iPhone and AirPods creations, has unveiled his latest project. Building upon his previous work with the AirPods Pro, Pillonel has now designed a repairable version of the Apple earbuds' case. In a generous move, he is sharing the design for free, allowing others with a passion for engineering and self-repair to create their own.
While Pillonel had already developed a custom replaceable printed circuit board (PCB) for the AirPods Pro, his latest project goes further by providing a comprehensive blueprint for dissecting the entire case. This includes 3D-printed sections and affordable replacement parts. In a thoughtful reflection on the state of modern technology, Pillonel noted how many gadgets lack repairability, contrary to the durable devices of the past. He highlighted Apple's second gen Air Pods 0Pro, which received a dismal zero repairability score from iFixit, as an example. These design choices, such as non-replaceable batteries and glued-in components, contribute to the era of "fast electronics."
Motivated by these concerns, Pillonel embarked on this project to demonstrate that even highly popular gadgets like the AirPods Pro could have been easily designed with repairability in mind. His ultimate goal is to inspire both consumers and multi-billion-dollar corporations like Apple to view technology as something that can be tinkered with, learned from, and repaired with the right skills. A key component of his design approach involves using screws and nuts instead of adhesives, allowing for a makeshift case that can be opened and fixed in the future.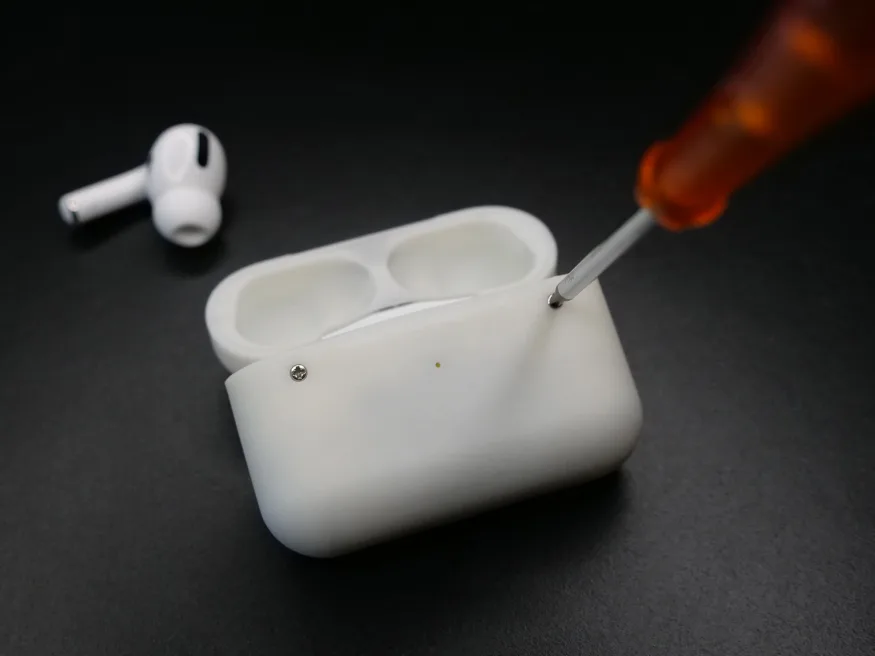 Discover the fascinating journey of Pillonel as he takes on one of his most challenging custom projects to date. In his quest to create precise scans of every component, Pillonel encountered complexities that even advanced tools couldn't handle. Watch the enlightening video below from his YouTube channel to gain insight into the world of sustainability and the inner workings of iconic consumer tech gadgets. However, proceed with caution – tinkering with your gadgets may void your warranty, so it's best to attempt it only if you're experienced in electronics repairs.
Today, Pillonel is excited to share his repairable designs with the public, free of charge. His aim is to inspire both individuals and manufacturers to prioritize repairability in product development. By working together, we can contribute to a circular economy that reduces electronic waste while promoting responsible tech innovation and conscious consumption. Visit Pillonel's website to explore his designs and find replacement parts in his storefront.
Empowering AirPods Users
The USB-C iPhone modder's innovation empowers AirPods users in several ways:
Extended Lifespan: By enabling AirPods users to replace the case battery easily, this modding breakthrough allows them to extend the lifespan of their charging case significantly. This means fewer cases ending up in landfills due to worn-out batteries, contributing to a more sustainable tech ecosystem.
Cost Savings: Rather than purchasing a new charging case when the battery life declines, users can now invest in a replaceable battery, which is often a more affordable option. This cost-saving measure benefits users' wallets while reducing electronic waste.
Customization Options: The modder's solution may open up opportunities for AirPods enthusiasts to customize their charging cases further. With the ability to replace the battery, users can experiment with different battery capacities and types, tailoring their charging case to suit their usage patterns.
Contribution to the Tech Community: This modding innovation demonstrates the power of grassroots efforts in the tech community. By sharing their knowledge and discoveries, modders contribute to a culture of collaboration and open-source creativity.