Microsoft Bing (commonly known as Bing) is a web search engine owned and operated by Microsoft. The service has its origins in Microsoft's previous search engines: MSN Search, Windows Live Search and later Live Search. Bing provides a variety of search services, including web, video, image and map search products. It is developed using ASP.NET.
Now the Bing's chatbot just got even smarter. Now, you can talk to Bing on your desktop and it'll read its replies out loud. This newest addition is available on Edge for PCs and is powered by OpenAI's GPT-4 technology. Initially launched on Bing's AI chatbot for mobile apps, voice support is also available on desktop. Simply tap the mic icon to chat with the AI-powered bot.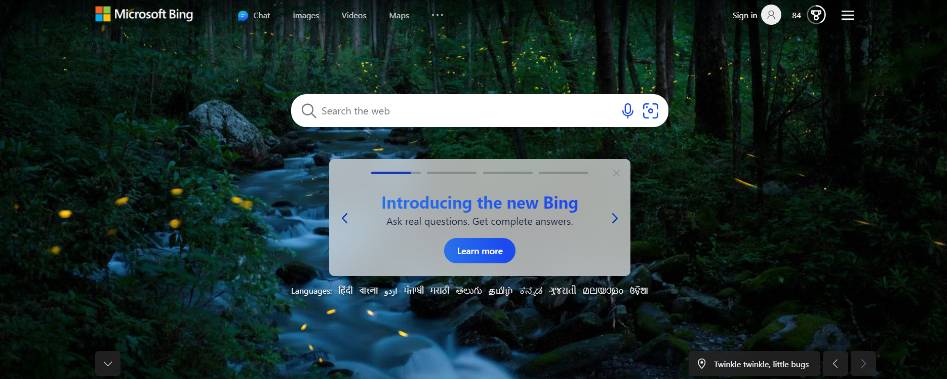 At the moment, it only supports English, Japanese, French, German, and Mandarin, but Microsoft plans to add more languages to the list soon. With text-to-speech answers in its arsenal, the chatbot can respond to questions with its own voice. Go ahead and ask it the toughest tongue twister you know, and Bing Chat will amaze you with its clever response using voice input. Get ready to chat with Bing like never before—hands-free!
Bing AI: Microsoft's state-of-the-art chatbot packed with cutting-edge features. Powered by OpenAI's GPT-4 language model and fine-tuned using supervised and reinforcement learning techniques, Bing AI can write poetry, songs, stories, and reports while also serving as a chat tool and providing users with insightful information on the current webpage.
Bing AI's unique image creator feature allows users to transform text into stunning images, and it's now available in all languages, making it a global sensation. Plus, its intuitive interface, inherited from the ChatGPT style, automatically scrolls down each successive search and response.
What sets Bing AI apart is its ability to cite sources, providing an unparalleled level of reliability. It can communicate and understand in all major languages, including non-institutionalized languages such as Bavarian. Best of all, Bing AI requires no registration (except during private browsing) and works seamlessly within Microsoft Edge through either a dedicated webpage or browser sidebar.
How do I access Bing chatbot?
Users can go to the Bing homepage by going to Bing.com to chat with the new Bing AI chatbot. There's also the option of downloading the mobile app version of Bing on your personal device. You can also use Bing on mobile through the Edge browser.