Netflix, the streaming giant that revolutionized the way we consume entertainment, has recently made a significant strategic move. The company has announced the removal of its Basic tier subscription plan in both the United States and the United Kingdom. This move comes as Netflix continues to evolve its offerings and adapt to the changing preferences of its global audience
The Basic Tier: An Entry-Level Subscription
For years, Netflix's subscription model has been structured into three tiers: Basic, Standard, and Premium. The Basic tier served as the entry-level option, providing subscribers with access to the vast library of content but limiting them to one screen at a time and offering content in standard definition (SD) quality. While it offered a budget-friendly option for those seeking Netflix's content, it came with certain limitations.
Netflix Now Removes Basic Subscription Plan across Multiple Countries
Netflix has recently made the decision to discontinue its basic subscription plan in Canada, the U.S., and the U.K. This plan allowed users to enjoy Netflix on one screen in 720p quality. While existing subscribers can continue using this plan, new subscribers will no longer have the option to purchase it.
This move, which was identified by the U.K.-based website Code Busters, hints at the possibility that Netflix may also eliminate the basic plan in other countries where its ad-supported standard plan is available. The basic plan was priced at $9.99 per month in the U.S. and £6.99 per month in the U.K.
Netflix first introduced an ad-supported plan in Canada and Mexico, and later expanded it to countries like the U.S., the U.K., France, Germany, Italy, Australia, Japan, Korea, and Brazil. In April, they enhanced the "Standard with ads" plan to include simultaneous streaming on two devices and full HD resolution.
For the ad-supported plan, Netflix charges $6.99 per month in the U.S. and £4.99 per month in the U.K. However, users who prefer ad-free streaming will need to pay $15.99 or £10.99 per month.
This decision precedes the anticipated release of Netflix's Q2 2023 financial results. In May, Netflix announced that its ad-supported tier has amassed over 5 million users worldwide. According to Antenna's analysis, the ad-supported plans accounted for 17-20% of new signups from March to June.
By eliminating the Basic tier, Netflix is repositioning itself as a premium content provider, focused on offering a superior user experience through higher-tier subscriptions. This strategic shift allows the company to maintain its position as a leading streaming platform and continue investing in original content and new technology.
Potential Impact on Subscribers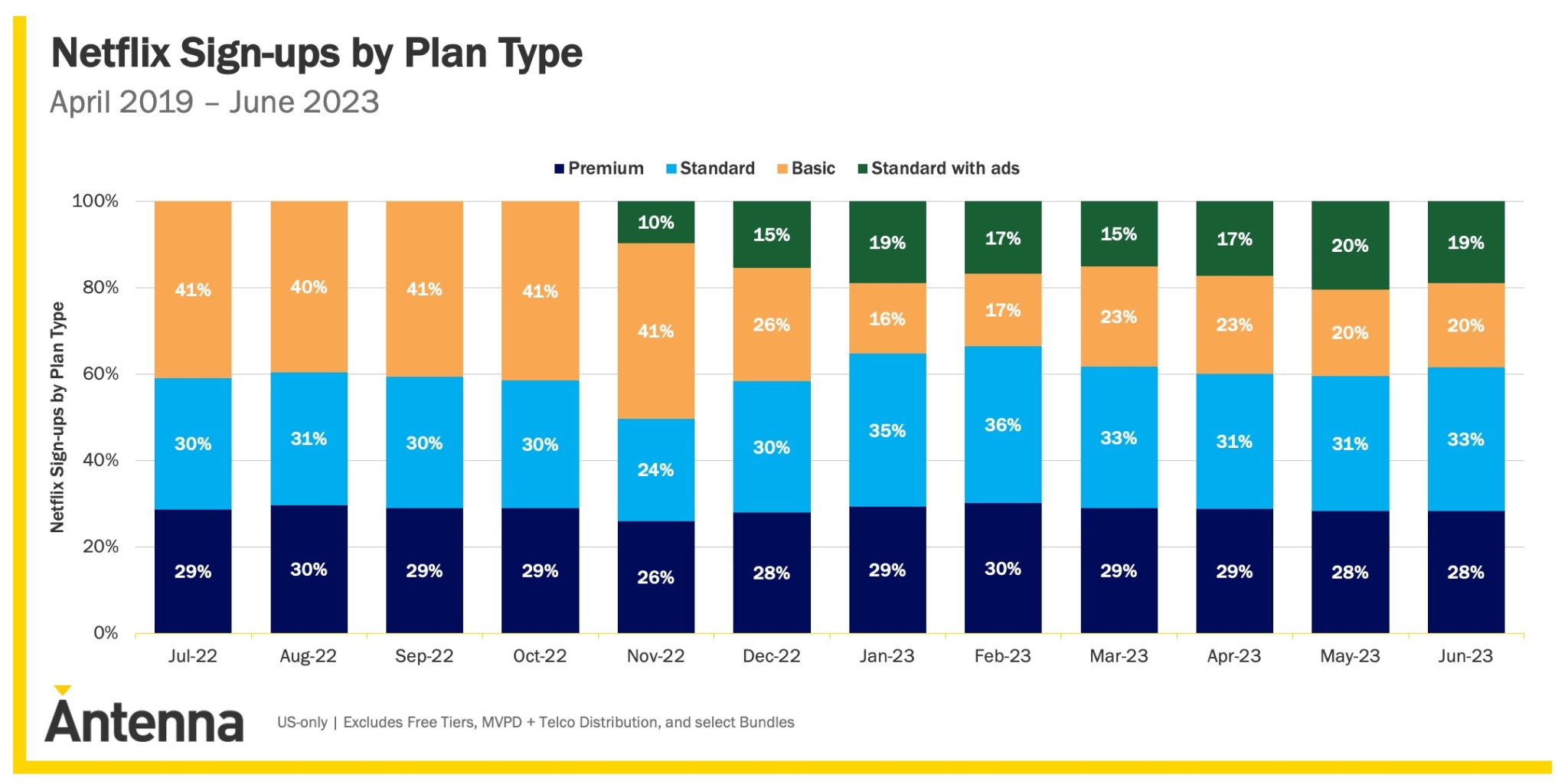 While the removal of the Basic tier may lead to a price increase for some subscribers, it also offers added value in terms of content quality and simultaneous viewing options. Users who were on the Basic tier might choose to upgrade to the Standard or Premium plan to unlock the full potential of Netflix's offerings.
Moreover, for existing subscribers on the Basic plan, Netflix has assured that their current subscription rates will remain unaffected for a certain period. This gives users time to evaluate their options and decide whether they wish to remain on the Basic plan or upgrade to a higher tier.