YouTube, the world's largest video-sharing platform, has become an integral part of our online lives. Its diverse content, ranging from educational videos to entertaining vlogs, has captured the hearts of millions. To cater to the evolving needs of its users and support creators, YouTube has introduced YouTube Premium, a subscription service that offers an ad-free experience, offline downloads, and access to exclusive content. As of late, however, YouTube Premium's subscription price has seen a slight increase of $2 each month.
YouTube Premium: A World of Benefits
YouTube Premium in the US is now available for $13.99 per month, a $2 increase from its previous cost. This change was quietly implemented and reflected on Google's signup page, as reported by 9to5Google. Additionally, the annual subscription for YouTube Premium has also gone up by $20 to $139.99.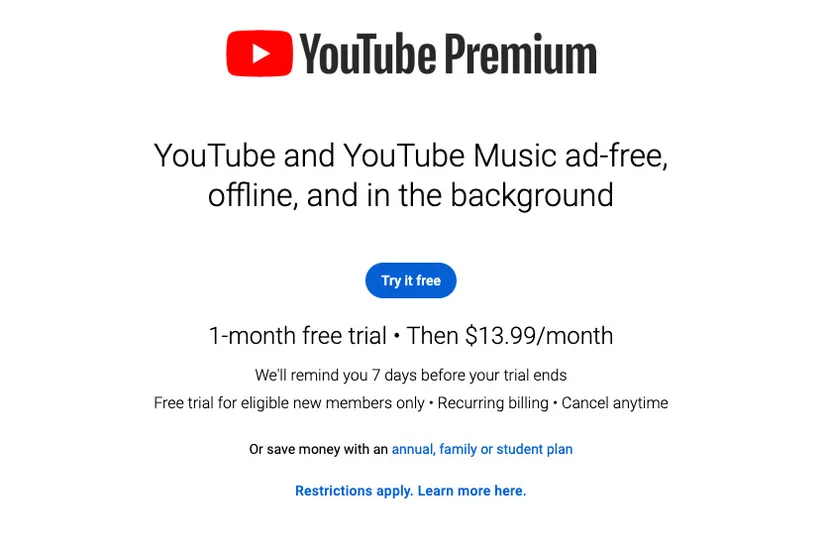 The music streaming service offered by YouTube, known as YouTube Music, is also experiencing a price increase in the US. It will now cost $10.99 per month, aligning with similar price adjustments made by competitors such as Apple Music, Amazon Music, and Tidal. Spotify is currently an exception, still charging $9.99 per month. However, the CEO of Spotify, Daniel Ek, has hinted at the possibility of a price increase in the near future.
Google has confirmed the price increase, stating that it aims to provide subscribers with a premium experience. According to YouTube spokesperson Jessica Gibby, the new price reflects the value of YouTube Premium, which offers ad-free YouTube, background and offline play, and access to over 100 million songs through the YouTube Music app.
YouTube Premium is designed to provide an elevated user experience, allowing subscribers to enjoy their favorite videos without interruptions from ads. The absence of ads not only enhances the viewing pleasure but also saves valuable time for users who wish to watch content without disruptions.
Another major perk of YouTube Premium is the ability to download videos for offline viewing. Subscribers can save their preferred content to their devices and watch it even when they have limited or no internet access. This feature is especially handy for those who commute, travel, or find themselves in areas with poor connectivity.
Additionally, YouTube Premium offers access to YouTube Originals, exclusive content produced by renowned creators and personalities. These original shows and series cover diverse genres, catering to a wide range of interests.
The Reason Behind the Price Increase
While YouTube Premium has long been praised for its value, the decision to raise its subscription price by $2 per month was likely driven by multiple factors. Content creation and maintenance come with substantial costs, especially as YouTube strives to offer premium features, original content, and maintain a high-quality service. The price increase is a means for YouTube to reinvest in its platform, support creators, and continue providing an exceptional ad-free viewing experience.
It's essential to recognize that even with the price increase, YouTube Premium remains competitively priced compared to other streaming services. Moreover, subscribers gain access to an ever-expanding library of exclusive content and the convenience of ad-free, offline viewing, making it a valuable investment for avid YouTube users.
The Value Proposition of YouTube Premium
YouTube Premium's value proposition extends beyond the perks mentioned earlier. For users who spend a significant amount of time on the platform, the absence of ads ensures an uninterrupted viewing experience, offering better focus and engagement with the content.
Furthermore, supporting creators is a crucial aspect of the YouTube ecosystem. By subscribing to YouTube Premium, users contribute to the revenue generated for creators, enabling them to continue producing quality content for their audiences.
YouTube's Commitment to User Experience
YouTube's decision to increase the subscription cost of YouTube Premium demonstrates the platform's commitment to improving the overall user experience and continuing to offer exceptional services. By investing in the platform's growth and supporting creators, YouTube can further enhance its offerings and cater to the evolving preferences of its vast user base.